---
Ringers at All Saints
---
Did you know? : The first peal by an All Saints band after World War I, and the first by an All Saints band after a half century gap in 1982, were both rung at Hurst.
---
Some of the band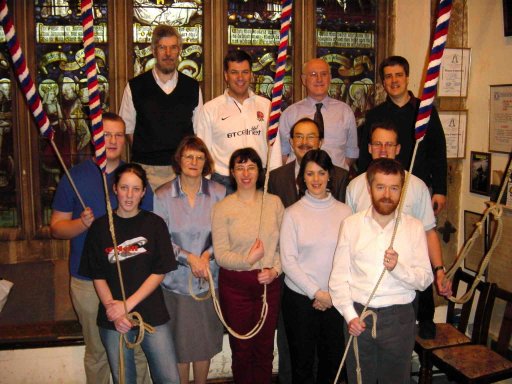 Tower officers
Details and contact information for the current officers
---
Famous All Saints ringers
Reverend F E Robinson is buried in All Saints churchyard. He was a prolific ringer, being the first person ever to ring 1000 peals. He was also a reformer, helping to found the Oxford Diocesan Guild of Church Bellringers, and serving as its first master for 30 years until his death.
Click here for more details
Reverend Gilbert Thurlow rang in Cambridge as an undergraduate and after ordination came to All Saints as a curate in the 1930s. He subsequently went on to become a President of the Central Council of Church Bellringers and Dean of Gloucester Cathedral. Click for more details.
---
All Saints band over the years
What did former ringers look like? We have pictures going back a century.
---
Former ringers and officers
Did you ever ring at All Saints?
Do you know anyone who did?
Click to see a list of: Known ringers from 1882 to present ... or ... Tower officers from 1880 to present
---